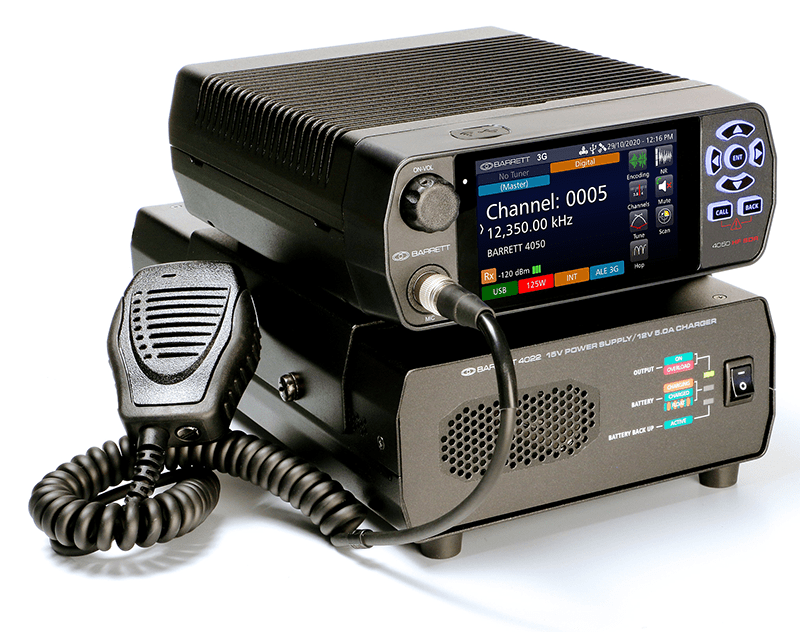 What a digital voice vocoder can offer
What a digital voice vocoder can offer

Whether you're on a tactical operation or a humanitarian mission, you need to be confident that your team can understand each and every word you say. A digital voice vocoder, like the one on the new 4050 HF SDR transceiver, makes just that kind of consistency possible.
The advantage of digital voice
With Barrett's digital voice, you get telephone-quality communications and a nearly unmatched level of consistency. The system digitises voice signals with a vocoder and transmits then through a data waveform. The waveform is then decoded at the receiver with a voice message that is clear, crisp and secure.
To ensure consistent transmission and prevent variations in path quality, the vocoder uses data rates ranging from 2400 bits per second (bps) down to 600 bps. It also employs Digital and Advanced Encryption Standards (DES and AES) up to 256 bit. Data waveforms use throughput rates that reach beyond 19200 bps.
A clear understanding of communications by all parties is essential, whether on the battlefield or in the aid tent. The digital voice feature on the 4050 HF SDR transceiver ensures crisp communication each and every time.
Moving forward with the 4050 HF SDR transceiver
Advances in digital voice technology aren't the only reasons the Barrett 4050 HF SDR transceiver represents the pinnacle of communications equipment. From secure email, data transfer and telephone connectivity to an easy-to-use layout, this transceiver can get the job done in nearly any kind of mission.
Some of the other key features of Barrett's newest generation of transceiver include:
• High-resolution touch screen control
• Advanced software-defined architecture
• A multi-language menu
• Integrated GPS interface
• Automatic link establishment
• IP network connectivity with other devices
Communications equipment you can trust
No matter what your mission, Barrett Communications has the solution for you. Since 1976, we have been one of the world's leaders in radio systems, earning a reputation for reliable, cost-effective and user-friendly solutions. All of our products are backed by ISO 9001:1008 quality assurance certification. With offices on three continents and a clientele that spans the globe, our team can help you no matter where you are or how big (or small) the mission is.