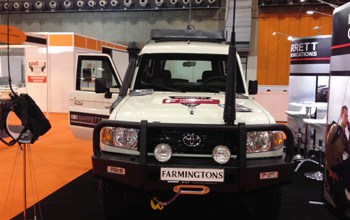 Barrett Communications: AIDEX 2013 review
Barrett Communications: AIDEX 2013 review.
Perth, Western Australia, December 10, 2013. Every year AidEX brings together many international organisations working in the field and delivering services to the humanitarian aid sector.Barrett Communications have been a supporter of AidEX since its inception and have exhibited each year of the event. This year Barrett exhibited its full range of high frequency (HF) radio communications solutions installed in a Land Cruiser (supplied by Farmington's Gmbh) demonstrating how the latest equipment and systems work together to communicate in an environment where no communications infrastructure might exist.
The Barrett Communications' display included The Barrett 2000 series combining current technology with the intuitive ease of use that has become synonymous with Barrett Communications HF equipment. The transceivers software defined core is readily upgradable by way of a simple software download and it's unique design allow it to be configured and deployed as either a base station or mobile transceiver. Also, Wireless HF Handsets and speakers were installed demonstrating the ease of installation in a vehicle where no control cabling from the RF unit to operator position is required, reducing fleet installation time by half. The handset can be removed from the vehicle by the operator when not in use for security and the transceiver locked down.
The exhibit also included a demonstration of the Barrett 2020 email, fax and data solution providing secure data, email connectivity and data transmission. The interactive display allowed visitors to the stand to gain access to the vehicle where the advantages and options available to organisations working in the aid environment could be visualised.
AidEX 2013 theme was sustainability and resilience and brought together over 2,000 professionals from all areas of the aid community. It proved to be a great opportunity to demonstrate and listen to the needs of humanitarian aid community with which we work.