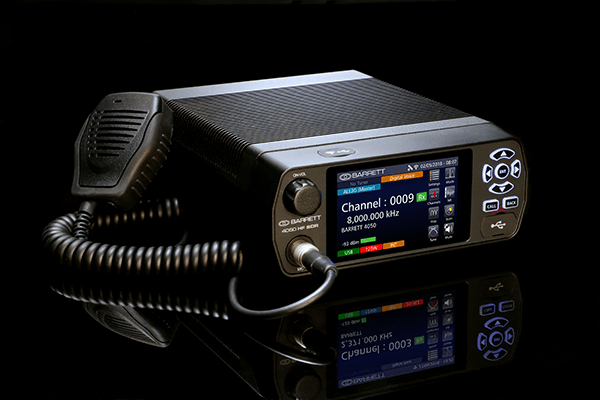 Barrett Communications launches the latest HF Software-Defined Radio
Barrett Communications launches the latest HF Software-Defined Radio.
Perth, Western Australia, May 17, 2016 – Barrett Communications have announced the upcoming release of their latest product, the Barrett 4050 HF SDR (Software-Defined Radio).
This new generation of HF transceiver combines Software-Defined Radio technology with the intuitive "ease of use" that has become synonymous with the Barrett name. With its unique user friendly touch screen interface it is aimed at a broad market including peacekeeping, law enforcement and security organizations, humanitarian and non-government organizations (NGO) and commercial businesses.
IP network connectivity makes integration with existing networks simple and on-board Wi-Fi allows for secure seamless operation and control of the HF transceiver via iOS, Windows or Android based devices or via Windows or OSX on desktop computers. Mr Greg O'Neill, Managing Director of Barrett Communications explains "The level of user accessibility at a local and remote level is a highly significant technological advance in the HF radio communications market. This can all be achieved whilst still providing secure communications via encryption, or frequency hopping options."
Multiple languages will be available as standard on the transceiver. This will initially include Arabic, Chinese, English, French, Russian and Spanish with additional languages being added progressively. When the Barrett 4050 HF SDR is teamed with other Barrett HF products it also provides secure digital voice, secure email, data transfer and telephone connectivity within an HF network and onward to the international telephone network and internet.
Mr O'Neill commented that orders will be accepted from September 2016 and that there were no plans to cease production of its predecessor, the 2050 HF Transceiver, assuring customers that Barrett will continue to provide spares and service support well into the foreseeable future. The Barrett 4050 HF SDR will be on display on the Barrett Communications stand H638 at Eurosatory in Paris, France from 13th to 17th June 2016.