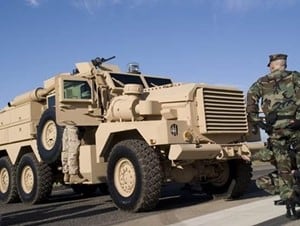 Radio tracking features for security and transparency
Radio tracking features for security and transparency
Whether engaging in tactical, humanitarian, law enforcement or commercial work, you need a radio tracking system that keeps you and your team accounted for. Barrett Communications offers HF radio solutions that can complete the job, with the 4077 HF Map & Track System. When looking to maximise safety and transparency, look for radio products with the right features.
Live asset tracking
In order to keep track of your assets, whether a vehicle, person or load of supplies, you'll need a program that updates position quickly and automatically. Products like the 4077 HF Map & Track System use an icon to give you an up-to-date display of your assets, utilising high frequency radio signals and the unbeatable Barrett HF Map & Track Program. Wherever your assets are, you can rest assured that you are getting the most up-to-date positioning. With Live Asset Tracking, you can know if anyone is being put at risk, or when the mission is complete, right away.
Viewable tracking history
Need to see where your assets have been, not just where they are now? With radio tracking, you can play back your asset icon as a breadcrumb trail, and see its location up to 24 hours back. This feature is great if you need to keep a log of your assets' movements.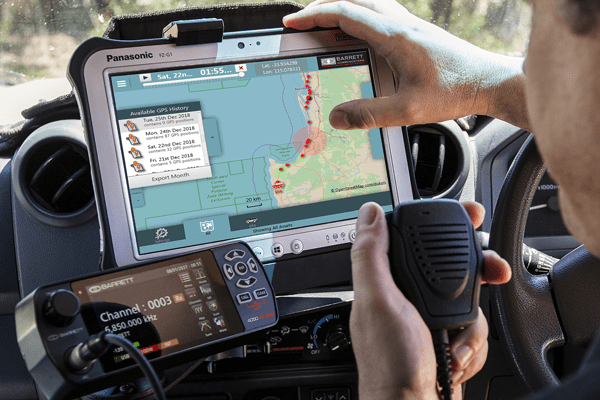 Automated GPS transmission and receipt
With the right setup of Barrett products, you can sidestep the need to manually send GPS transmissions entirely. A combination of the 4077 HF Map & Track System with a 4050 HF SDR Transceiver will make this possible. Rather than sending out a manually encrypted GPS transmission, save time with the automated "GPS push" feature. GPS push sends out a signal from the mobile to the tracking base station, without operator input. Features like this are a part of Barrett's continued push to make their products intuitive and user friendly.
Definable geofencing zones
Whether on a tactical or humanitarian mission it can be important to define geographic boundaries for your team. Geofencing allows you to overlay markers on your map to ensure that your assets stay in safe areas. Zones can be defined by colour to ensure that they are easy to read; with red representing a restricted area, green a safe one and blue a travel route.
With the 4077 HF Map & Track System, you can keep a constant record of your assets without any manual transmissions, look back on where your assets have been, and lay it all out in mapping software that makes it easy to keep your team protected. Barrett Communications has been a leader in crafting radio systems since 1976, earning a reputation for reliable, cost-effective and user friendly solutions. All of our products are backed by ISO9001:1008 quality assurance certification. With offices on three continents and a clientele that spans the globe, our team can help you no matter where you are or how big or small the mission is.