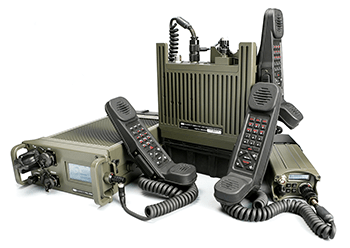 What's the difference between how HF and VHF/UHF radio waves travel?
What's the difference between how HF and VHF/UHF radio waves travel?
Using field radio equipment for reliable communications requires you to understand the way radio waves travel. Once you've got a grasp of how High Frequency (HF) and Very High Frequency/Ultra High Frequency (VHF/UHF) radio waves carry information from A to B, you can optimise your radio network for more dependable communications.
This ensures you'll never be stuck when you need to contact others and that your investment in establishing an interconnected HF/VHF network pay for itself in improved communications accuracy. So, back to basics – what is the difference between HF and VHF/UHF transmission?
How do HF radio waves travel?
HF frequencies (between 3-30 megahertz) are transmitted from a base unit or handheld transceiver into the Earth's atmosphere. These radio signals 'bounce' off the ionosphere and return to land, where they are received by another transceiver tuned into the same radio band. This form of propagation means HF radio signals can be sent and received over hundreds or even thousands of kilometres, making HF radio an excellent tool for communicating between field locations or radio base stations across wide expanses.
This form of transmission also means data propagated by HF radio is less likely to be distorted by terranean objects such as buildings or mountains.
How do VHF/UHF radio waves travel?
VHF radio waves operate in a band between 30-300 megahertz, while UHF radio signals are propagated within 300 megahertz and 3 gigahertz. These radio waves travel over line of sight, making them ideal for local communications over a few kilometres. Indeed, UHF radio frequencies best suit communications within a one kilometre radius – perfect for indoor applications.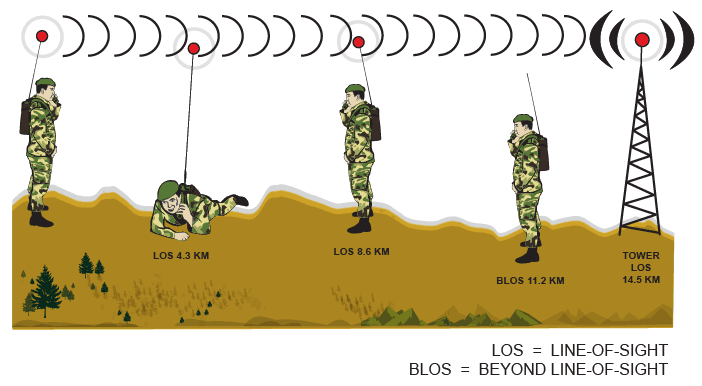 VHF radio waves normally travel within line of sight along the Earth's surface.
What are the benefits of HF radio vs VHF/UHF radios?
Each mode of radio wave propagation is useful in different settings. HF radio, for example, is vital for base stations communicating with each other over vast distances, thanks to ionospheric transmission. HF radio is also useful for linking remote regions to the outside world, as HF radio communications is not reliant on conventional communications infrastructure.
Similarly, VHF/UHF radio is the perfect tool for field communications between numerous locations. As long as terranean objects such as hills or mountains don't block the signal path, this radio wave improves communications accuracy significantly.
Barrett's radio network interconnection options
The difference between HF and VHF/UHF transmission is application – if you build a radio communications network that gets the best out of individual devices, both HF radio and VHF/UHF radio equipment will be indispensable. However, in order to get the best out of both options, you need to seek the help of radio experts such as Barrett Communications to ensure your radio network is optimised and interconnected for peak performance.
For more important on getting your HF or VHF/UHF radio network started, contact the Barrett team today.