How can HF radio aid humanitarian efforts worldwide in 2018?
How can HF radio aid humanitarian efforts worldwide in 2018?
Millions of people across the world are in dire need of humanitarian aid, and the statistics make for grim reading:
• The UN Refugee Agency (UNHCR) estimates 65.6 million people are now displaced from their homes.
• The UN Office for the Coordination of Humanitarian Affairs (UNOCHA) says more than 128 million people worldwide will need humanitarian assistance this year.
• Humanitarian news agency IRIN claims that in the world's worst crisis zones, such as the Democratic Republic of Congo, humanitarians have only been able to raise around half of the funding they need.
The scale of the task is clearly immense, and humanitarian workers will be unable to perform their vital work without the right tools.
Keeping in contact
Humanitarian agencies such as the UNHCR and UNOCHA, as well as charities like Oxfam, often operate in multiple locations and countries simultaneously. In order to keep the gears of this massive medical and food security effort moving, operators rely on regular and uninterrupted communications in order to coordinate their movements. Keeping everyone in contact with each other is vital to getting aid to those that need it most while also keeping humanitarian bodies safe in potentially dangerous areas.
The answer to this need for reliable communications infrastructure? HF radio.
Humanitarian organisation rely on donations and private funding to get the best communications equipment.
How can HF radio help humanitarians?
HF radio transmits data by reflecting high frequency waves off the ionosphere, where they 'bounce back' to Earth to be picked up by a transceiver. These devices work without the need for network infrastructure or satellite connection and are the perfect communications tool for humanitarian workers in the field.
There are a number of benefits to using HF radio over other equipment:
1. Humanitarians can maintain communications over thousands of kilometres without the need for network or satellite infrastructure.
2. HF radio offers free channels for sending and receiving information – it's a cost-effective solution for cash-poor humanitarian groups.
3. Quality HF radio providers are able to offer secure equipment to ensure communications cannot be intercepted or eavesdropped on.
More than 128 million people worldwide will need humanitarian assistance this year.
How do humanitarians use HF radio?
HF radio has long been identified by humanitarian groups as an effective alternative for keeping in touch in remote locations or areas with compromised communications infrastructure. Last year, for example, the World Food Programme (WFP) responded to shortages in Fiji by donating two HF radios to the National Disaster Management Office. This helped field workers coordinate movements and distribute supplies on the islands.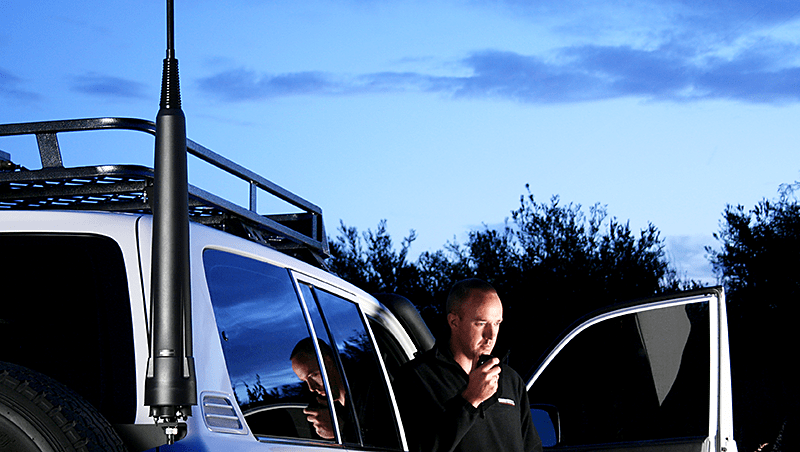 Barrett Communications is no stranger to supporting humanitarians' work:
• In December of last year, a large mudslide hit Villa Santa Lucia in coastal Patagonia, Chile, leaving a third of the town and all local infrastructure destroyed. Barrett supplied HF radio equipment for field workers and rescue vehicles to help the recovery effort.
• October saw Barrett support the Tuvulan Government's National Adaptation Program of Action – designed to improve early warning and emergency response to extreme weather on the Pacific island – by supplying Barrett 2050 HF transceivers and 2020 email, data and fax systems.
• In September 2017, humanitarians respondents travelled to the Caribbean island of Dominica in the immediate aftermath of the crippling Hurricane Maria to help coordinate aid efforts. Using Barrett 2090 HF manpack transceivers and a tactical broadband antenna, a HF network was established and used to coordinate the arrival of medical and food supplies.
HF radio has a vital role to play in supporting humanitarian missions worldwide – and Barrett has the range of radio equipment to back field workers every step of the way. For more information about the commercial HF radio equipment we supply, contact the team today.